University of Washington School of Public Health
Close Up July 2013: Tao Sheng Kwan-Gett
  Subscribe to Close Up monthly | Close Up archives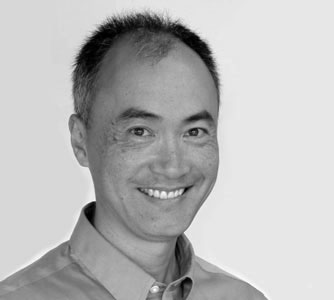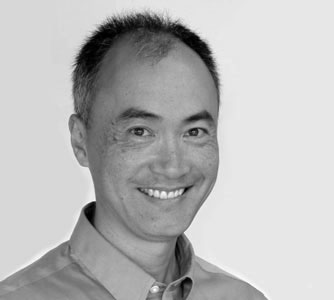 "Public health practice is complex, involving linkages between diverse systems"
Tao Sheng Kwan-Gett


Director, Northwest Center for Public Health Practice
Tao Sheng Kwan-Gett was in born in Tasmania and grew up in Salt Lake City, the son of a physician and pioneering engineer of the artificial heart. After working in pediatrics and Public Health – Seattle & King County, and volunteering in a clinic on the Thai-Burma border, he recently became director of the School of Public Health's Northwest Center for Public Health Practice.
Why did you go into public health?
Originally, I was interested in academic pediatrics. I got my master's here in 1998 through the Robert Wood Johnson Foundation Clinical Scholars Program. I found myself wanting to learn and live the doctor-patient relationship more before studying it. I joined Virginia Mason's Sand Point Pediatrics Clinic, and at the same time also worked for a couple of years with Harborview's Community House Calls program and EthnoMED website, which helps providers serving immigrants and refugees better understand their patient's culture. That increased my interest in public health. Other things that increased my interest were doing clinical research with faculty in the Division of General Pediatrics related to antibiotic resistance and volunteering at the Thai-Burma border.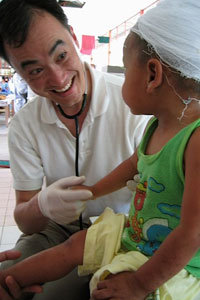 Tao Sheng Kwan-Gett spent his vacations treating patients on the Thai-Burma border.
How did you end up working with Burmese refugees and migrants?
My wife, Paula Bock, and I were originally interested in volunteering at the Dalai Lama's Children's Hospital in Dharamsala, India, because we're both Chinese-American and are very aware of the struggle of the Tibetan people. But they wanted a minimum six-month commitment, and because of our work demands Paula and I only had three months we could spend. Through our research, we found out about Dr. Cynthia Maung, a Mother Theresa-like physician in Mae Sot, Thailand, for refugees and migrant workers. It was a real eye-opener to work in an area with such poverty. In many of the refugee camps there's no running water, no power. People fleeing the violence in Burma live in bamboo huts if they're lucky.
And you kept going back?
I would volunteer at the clinic while Paula taught aerobics, helped out in the kitchen, and helped out with grant and report writing. Going back every year when I was in private practice increased my knowledge and awareness of infectious diseases and public health. I also started working with a nurse practitioner at Baylor, Charles Kemp, on a handbook of infectious diseases for primary care providers. It was published in 2006.
Were you providing mostly primary care in Thailand?
Highlights
MPH, University of Washington, 1998
MD, Harvard University, 1991
AB, Engineering, Harvard, 1986
Co-author, Infectious and Tropical Diseases: A Handbook for Primary Care
Former primary-care physician, Virginia Mason's Sand Point Pediatric Clinic
Former communicable disease epidemiologist, Public Health – Seattle & King County
Current Director, Northwest Center for Public Health Practice
At first, most of my time was spent seeing patients and teaching pediatrics to the young medics who provide the bulk of the health care to that population. Over time, my responsibilities changed to designing databases, collecting data, and helping analyze, summarize and visualize their data so they could have better understanding of the impact of different conditions on their population. It was a little funny. You'd think doing global health volunteer work that I'd be doing something different from work here. Actually, I was spending a lot of time in front of the computer using Microsoft Office, just like in Seattle.
What drew you to the Northwest Center?
I wanted to branch out beyond communicable disease. At Public Health – Seattle & King County, I had been exposed to other domains of public health: emergency preparedness, chronic disease epidemiology and communications. I really enjoyed collaborating with people in other programs. I also enjoy teaching and research and wanted to find an opportunity to do more of that. This position seemed like a really good fit.
What is the Center's mission?
To promote excellence in public health practice by linking academia with the public health practice community.
Are you taking the Center in new directions?
The core mission is not changing. State and local health departments will always be our primary stakeholders. What's changing is an appreciation of how complex public health practice is, and how it involves linkages between so many different systems – the public health system, the health care system, and also urban planning, transportation and economic development, domains that haven't traditionally been thought of as public health.
What kind of reaction are you getting?
It's been great. I have yet to meet somebody who feels that public health and health care should be less integrated. The challenge is to define better what we mean by integration, and to take more concrete steps from concept to reality.
What Tao reads
"A People's History of the US" by Howard Zinn. "That was great because it gave me a whole new perspective on history."
Reading now: Jared Diamond's book on primitive societies, "The World Until Yesterday."
You mentioned academia and public health practice. What role does our research play?
Research is a source of new ideas and innovation. It also can help us understand what is most effective and cost-effective in public health. The School of Public Health really has a lot to offer because we have this very broad expertise. The Center would like to help foster connections between the public health practice world and all of the School, not just the Center faculty. I think it'd be wonderful if we could find even more collaboration with people on upper campus – people doing work in computer sciences, or information systems, or anthropology. A lot of them do work that's very relevant to public health practice.
What's surprised you most during your first four months?
I wouldn't count this as a surprise, but it's been great to be a new person at the Center at a time when there are other new people on the public health landscape, such as new State Secretary of Health John Wiesman and new leadership at the Washington State Health Care Authority. I really want to learn from them and see how they use their leadership to influence public health.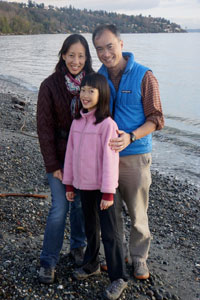 Paula Bock, Tao Sheng Kwan-Gett and their daughter Tia, 9, at Discovery Park in Seattle.
What do you do for fun?
I like to go on runs and bike trips with Paula and our nine-year-old daughter, Tia. A recent hobby for me is tai chi. I took kung fu for many years but got worried about getting injured as I got older. Tai chi's been a great outlet. It has not only a physical health component, but also a cultural component that helps me stay in touch with my Chinese culture. It gives me a chance to think about concepts like chi and reflect a bit on different approaches of the East compared to the West.
Are you a first-generation American?
Yes, but second-generation Western. My grandfather on my father's side moved from southern China to Australia. That's where my father was born – in the Australian bush. He was an engineer and a physician, and brought the family to the US when I was three. He joined the artificial heart program at the University of Utah, where he designed the artificial heart that was later to become the heart implanted in Barney Clark, the first heart transplant recipient. I went to medical school wanting to be a heart surgeon and to do artificial heart research. The fact I'm doing public health just shows how different your life journey can be from where you thought it would be when you started.